All around Mongolia
Tour code: MN-17
Seasons to be arranged: 1,June-15,September
Duration: 25 nights & 26 days
Number of travelers: Available for solo traveler, 2-4 people, group max of 20 people
Tour grade: Long Hours Jeep Safari expedition, Requires strength of body and mind
Total distance: 2200 km by plane, 5300 km by jeep, 5 km by horse, 5 km by camel
Activity: 1 hour horse riding, 1 hour camel riding, hiking 8 hours, meeting with nomads
Specially advised to pack: Hiking good shoes, sun glasses and sun hat, binocular, mosquito repellent crème, your favorite delicacies

On this trip you will travel to valleys of historical remains and religious and cultural buildings ruins and then follow footsteps of famous dinosaur hunter and american diplomat Roy Chapman Andrews. In Gobi desert you can enjoy vast open spaces with dancing mirages and herds of camels, green meadows beneath towering dunes, glacier covered gorge, spectacular canyons and most courageous camel herding nomads. Our safari travel goes through various landscapes among the Gobi region including sand dunes, Altai mountains, steppe of wild ass and gazelles, Then finally you will reach the legendary snow caped high peaks, decorated with green meadow and wild flowers on the bottom and trekking through glaciers and drinking a cup of coffee as standing on ice and exploring ancient rock paintings. Much surprises and different and very different landscapes...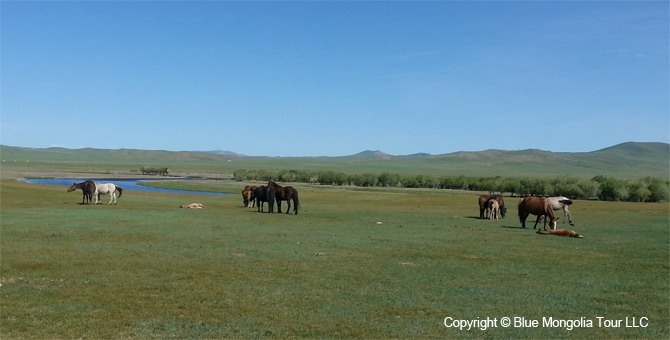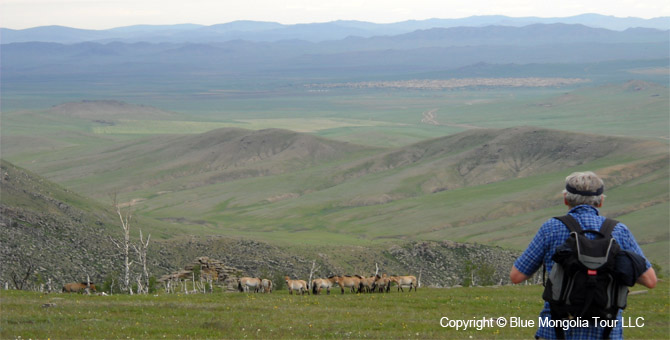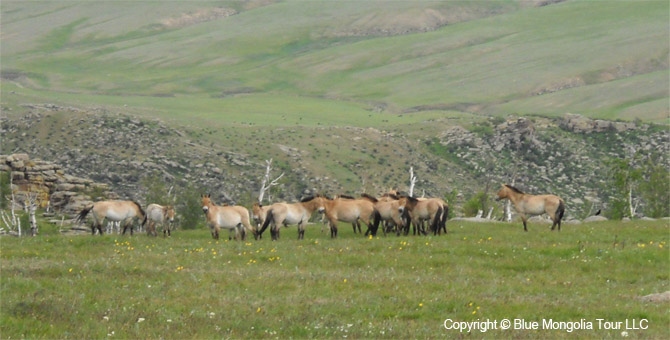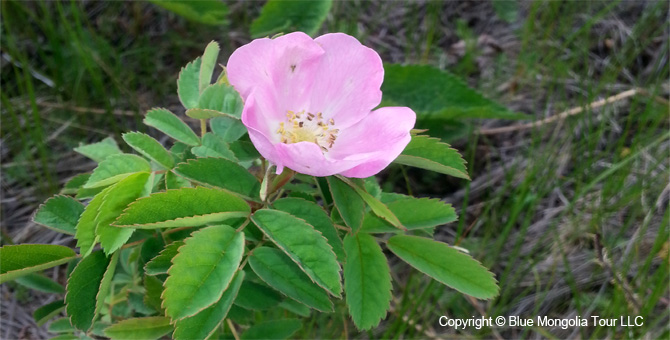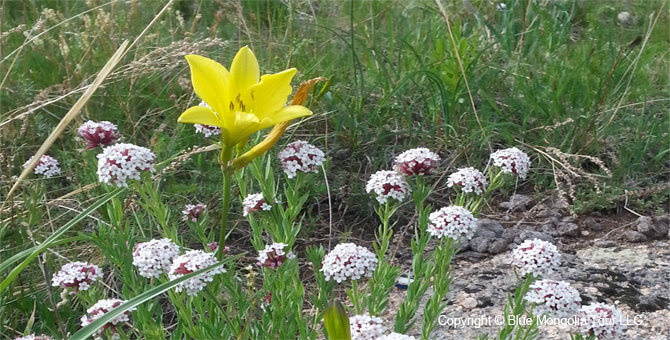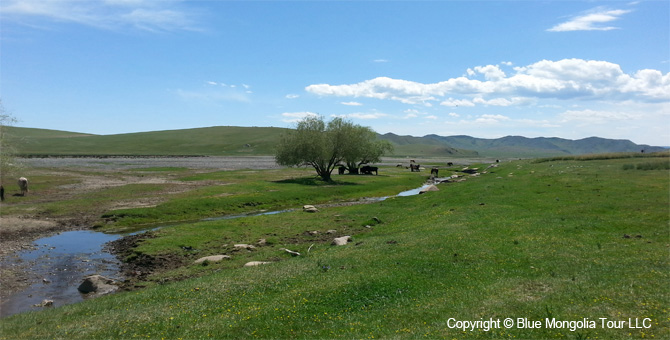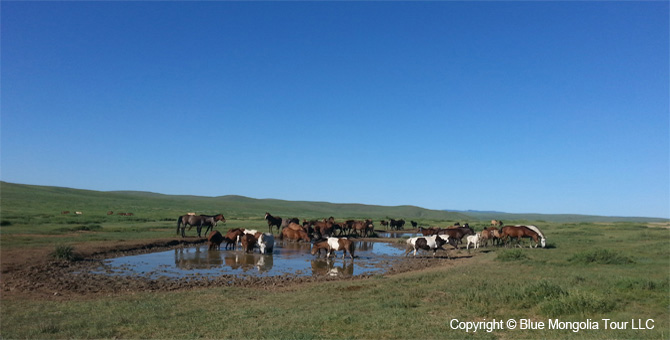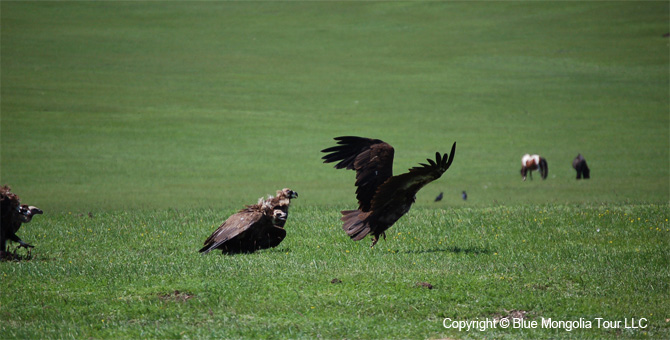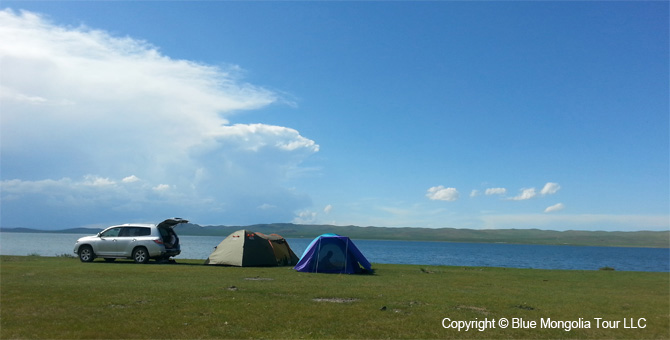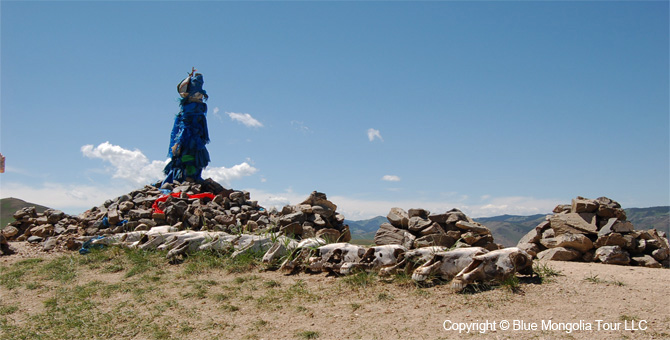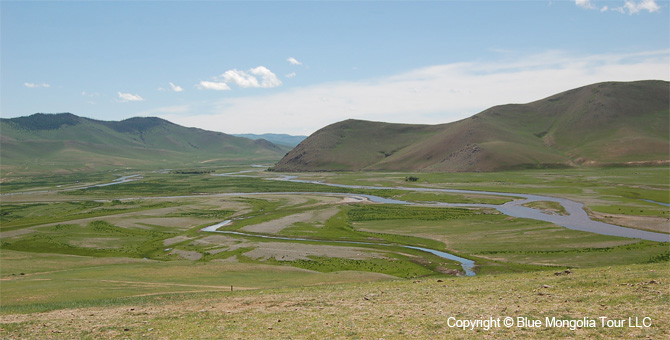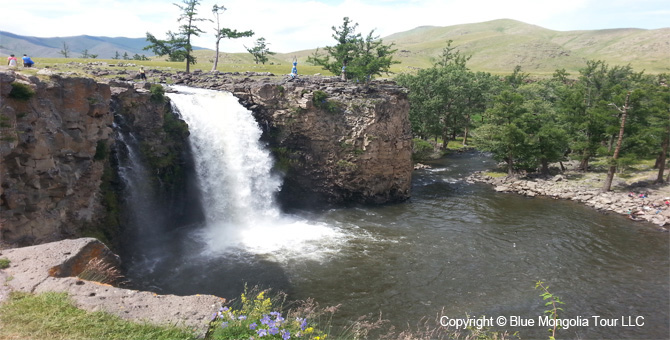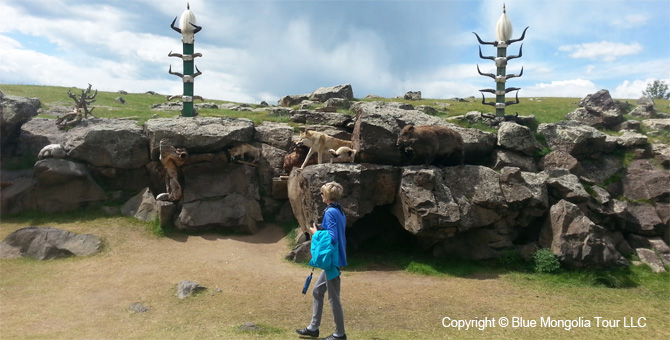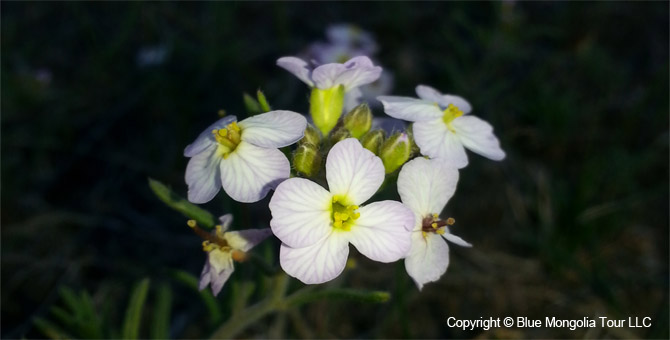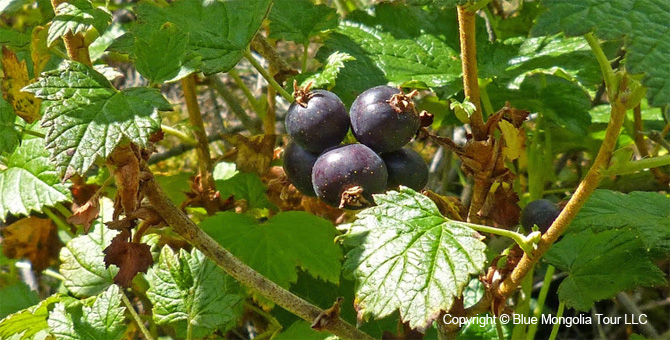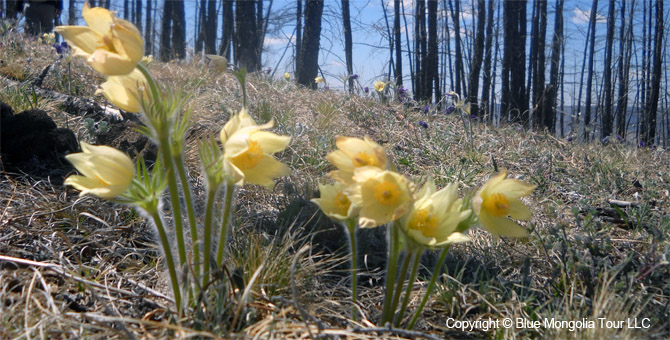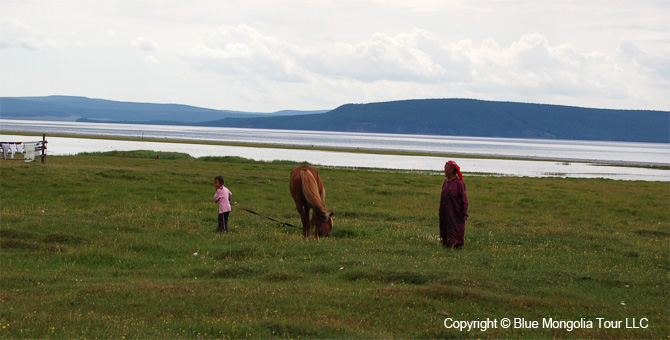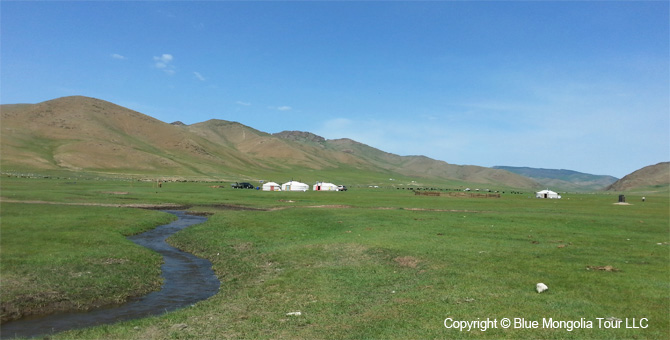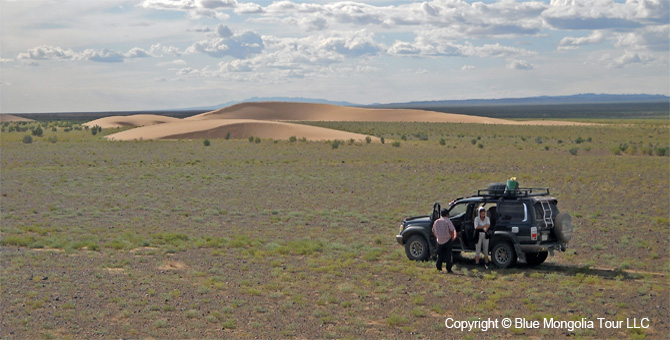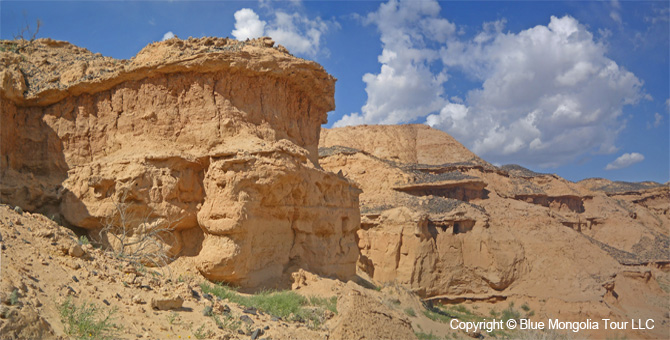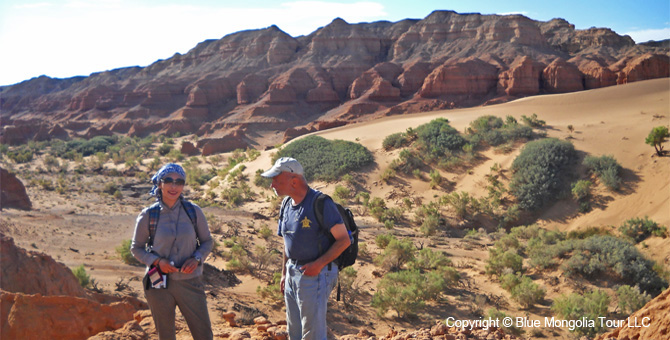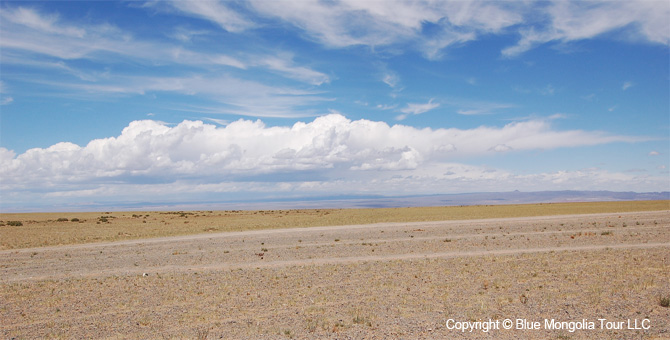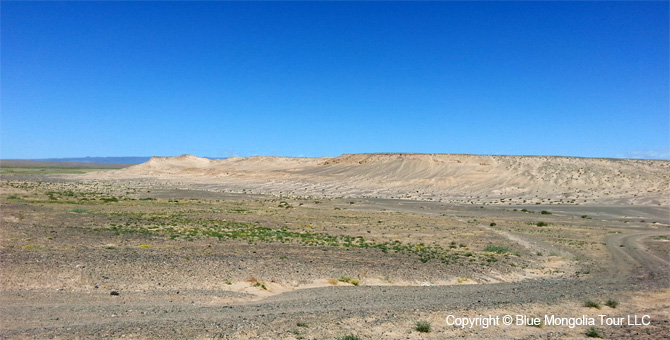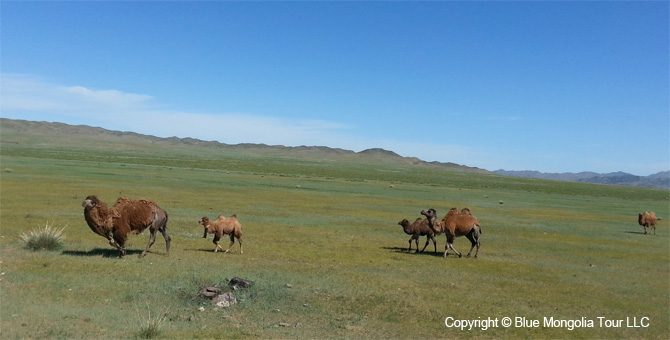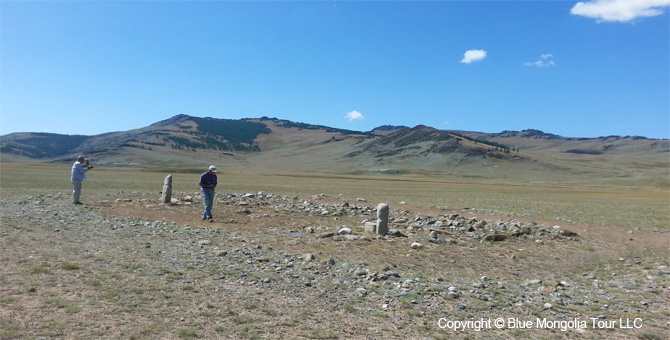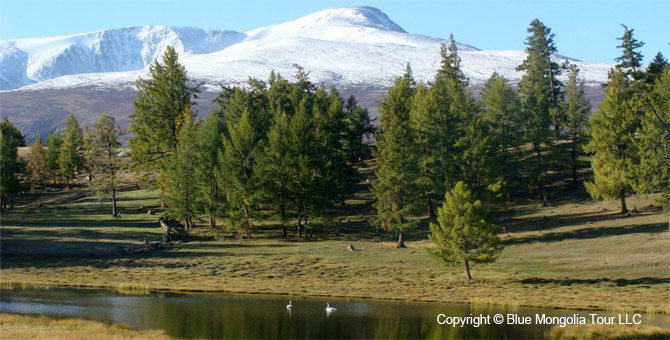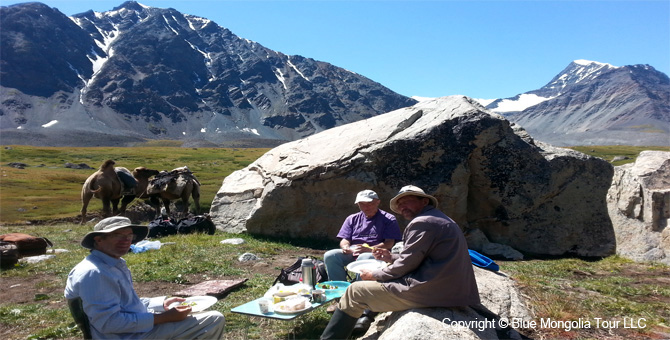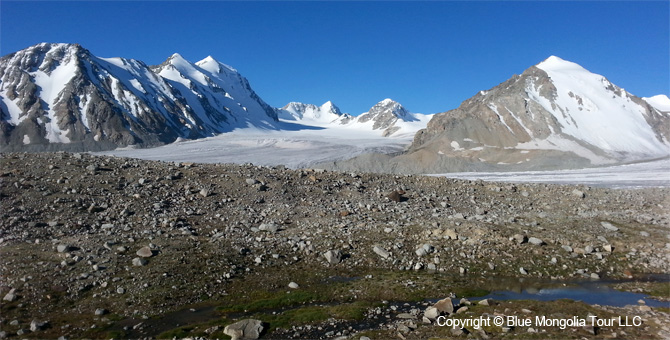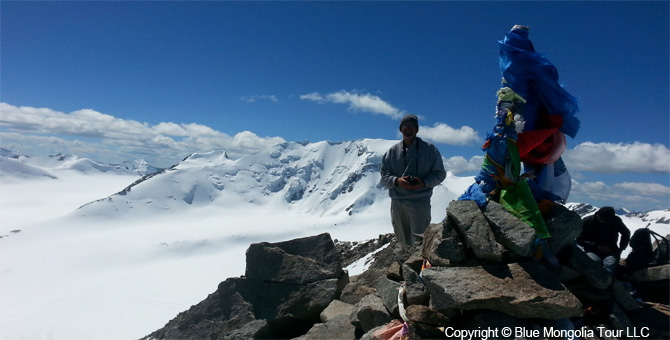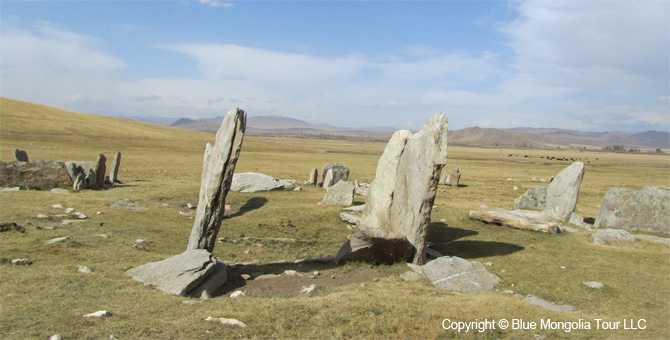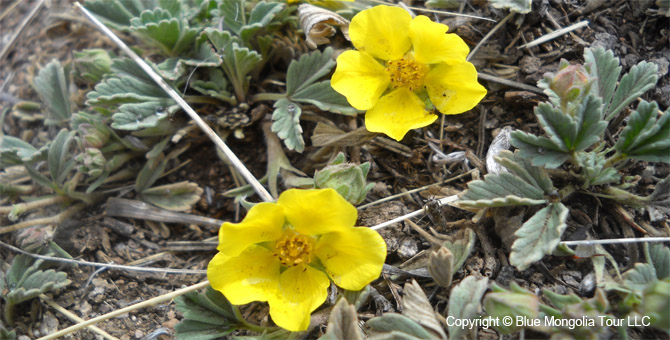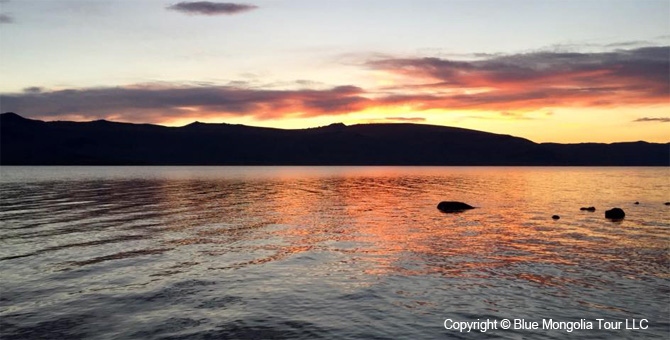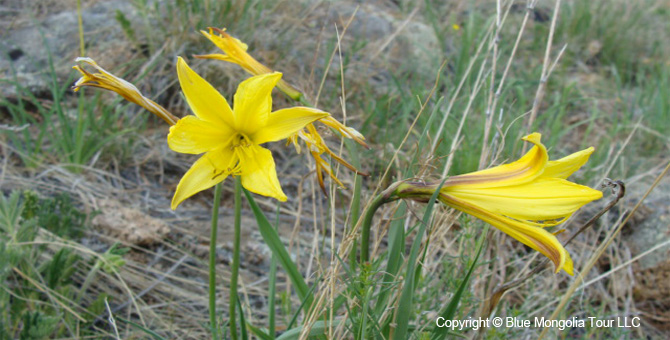 Day 1: Ulaanbaatar capital
Arrival in Ulaanbaatar city, Meeting assistance upon arrival by Blue Mongolia Tour agency representative and transfer to Hotel with 3 stars. Free time to adjust for time difference. Stay in hotel
Day 2: Khustain Nuruu Wild Horses National Park - Khogno Khan Nature Reserve
Breakfast at the hotel, Our tour guide and driver will greet you at the hotel lobby, Travel starts with Driving to Khustain Nuruu National Park, where herds of wild horse Przevalskii are re-acclimatizing since 1991, Drive to the mountains, Walking and trekking in hills, Explore wild horses -Mongolian name is takhi, Visit information hall displaying about wild horses and flora and fauna in the national park area, After lunch drive to Khogno Khan Nature Reserve Area, Accommodate at ger tourist camp near by Elsen tasarhai sand dunes, Free time and relaxing, Today you will drive for 340 km on earth road, Dinner, Stay overnight in ger tourist camp
Day 3: Khara Khorum - UNESCO Cultural Heritage Site
Breakfast, before heading to Khara Khorum you have a chance to experience the camel ride for 1 hour, The tour starts with drive to Khara Khorin town, where developed Khara Khorum capital of Great Mongolian Empire founded by Chinggis Khan's songs in 13th century, The town is registered as UNESCO's Cultural Heritage Site and still today it keeps the great history of nomadic Mongols, Here you will visit to Khara Khorum museum, which displays the results of archeaological excavation expedition and history of Mongols in 12-13th centuries, After lunch Visit to Monument for Three Great Empires in Mongolian history, located in Orkhon river basin area, Explore the Turtle Rock, Visit to Erdene Zuu Monastery Museum - First and Biggest Buddhist Center in medieval ages and it was closed and badly damaged in1930's by communists, Today you will drive for 120 km on paved road. Today driving distance is 120 km on paved road, Dinner, Stay overnight in ger tourist camp
Day 4: Tovkhon buddhist temple – Orkhon Waterfall in Khangain Nuruu Natioal Park
Breakfast, today you will drive to Tovkhon temple in beautiful mountainous area of Khangain Nuruu National Park, Take your small travel bag and start hiking to Shiveet Hill on mountain's path, app: up to 2 hours you will reach the top of mountain, Visit to Buddhist temple Tovkhon- Temple of Great Joy, Box lunch in open air, Hiking to small cave called mother belly, meditation caves, meditation rock seat in the sun, If you do yoga or meditation, this is the perpect place for your interest, Hiking to the peak of hill with stupa, where the surrounding nature view looks fascinating, Trekking down to the bottom of the mountain, free time and refreshing drinks near the vehicle, Then travel to Orkhon waterfall area, Today driving distance is 80 km on earth road, Stay overnight in ger tourist camp
Day 5: Orkhon waterfall & Enjoy with Nomad family hospitality
After breakfast you will be driven to Orkhon waterfall area, Visit to yak herders or horse breeders' Home-Ger, Get introduced with local family, Talking with them, Photograph yak milking, Try diary products from yak milk, Drink Mongolian national drink - fermented milk of horse, Horseback riding and trekking to big Orkhon waterfall and small waterfall, After lunch walking to Orkhon waterfall, Trekking down the river cliff and inside the cliff as photographing, Free time, Enjoy the fly fishing in Tsagaan river, km on earth road, Dinner and Stay overnight in ger tourist camp
Day 6: Buddhist Temple Ruins at bank of Ongi River
After breakfast you will have safari and full day drive to Ongi River basin area, On the way you will have box lunch and en-route stops for drinks, photographing, discovering nature views and so on.., After accommodating in ger tourst camp you have a walking trip to Ongi Buddhist Temple ruins, These Ongi temple ruins are damaged by communist people by 1937-1939 and later by 1999 one temple was restored and it became the present information center, If you like hiking, trekking visit to God Figure on the hill, Free time and Dinner, Today driving distance is 390 km on earth road, Stay overnight in ger tourist camp
Day 7: Bayanzag Flaming cliffs & Khongor Sand dunes in Gobi Three Beauties National park
Breakfast, today you have an excursion to very interesting paleontological area in South gobi desert, you will drive to Bayanzag Flaming cliffs, which is called the Dinosaurs' land, Here dinosaurs' fossils were found in 1922, later its dimension was used in Jurassic Park movie, Explore Saksaul forest -Gobi native tree - in Gobi steppe, Box lunch near cool spring in open air, Driving in Gobi steppe to Khongor picturesque sand dunes with width of 150 km and 300 m height, Rest in tourist camp, Dinner, Today driving distance is 310 kms on earth road, This day driving distance is 310 km and it takes 8-9 hours driving, Stay overnight in ger tourist camp
Day 8: Khongor sand dunes in Gobi Three Beauties National park
Breakfast, today you have an acclimatization day near the Khongor Sand dunes, You will enjoy some activities like: Hiking to sand dunes and enjoy with skiing down from dunes, Explore the fascinating view of sand hills and rocky mountain ranges of Khatan Sevrei, This is the very suitable place for photographing, Trekking to cool spring near the sand hills, After lunch visit local camel breeder family to discover the Gobi lifestyle and try diary products from camel milk, 1-2 hours camelback trekking along sand dunes, neighboring to big mountain ranges, Free time, Dinner, Stay in ger tourist camp
Day 9: Ukhaa Tolgod Hill
Breakfast, Visit to local camel breeder's house-Ger, Explore the nomadic lifestyle and daily activities, Try diary products from camel milk, Camel back riding -1 hour, Drive to Sevrei Mt and explore rock paintings dated to ancient centuries /55 km/, Driving in Gobi vast steppe with low trees, Picnic Lunch, Visit to salt factory-food salt growing field, travel to Ukhaa Tolgod red hills, where dinosaur bones are hidden in sands /190 km/, Picnic Dinner, Campfire work, Stay overnight in outdoor tent camping
Day 10: Zulganai Oasis
After breakfast travel to one of the beautiful distinctive places in Gobi desert - Zulganai Oasis /140 km & 5-6 hours driving/, The Zulganai river takes it's its source from the West Mountain of Altan flows to the west 20km and dissolves into the sand. the Zulganai River has beautiful dense forest with cane and willow. There cane grows about 3 meters high even the camel wasn't shown, Trekking around oasis, Exploring sand dunes, small river, bushes in green meadows, birds, camels and so on, After lunch drive to Narandaats yellow smooth hills, trekking to yellow hills and slope places, where is hidden dinosaur fossils until today, Looking for fossils, Dinner, Stay overnight in outdoor tent camping
Day 11: Hermen Tsav Flaming Grand Canyon
Breakfast, Head to Hermen tsav Flaming Grand Canyon, This is the biggest canyon in Mongolia and it stretches for about 10km and reaches about 100-200m in depth at some parts. Hermen Tsav has a canyon with beautiful oasis, sand dune and jungle of canes and willows. This ground canyon is incredible beautiful place for timely photographing! Also when the sun rises and sets down, the color of the canyon seems it is in different planet, There you can see the colorful layers of soil and it proves that this place was ancient see bottom area. Nowadays, there are treasure chest fossilized dinosaur bones and eggs lying on the surface of sandy land.Trekking in the canyon taking pictures of canyon, red & green bushes, sand dunes in the canyon, After lunch continue trekking and photographing, Looking for petrified dinosaur fossils, Dinner, Stay overnight in outdoor tent camping at the canyon
Day 12: Bugiin Tsav Canyon
Breakfast, Trip to Bugiin Tsav Orange & Green Cliffs, which houses for millions of fossils of stones with picture of see animals dated to ancient eras, It seems like original natural museum made by nature itself, Fossils of many different species like dinosaurs, a turtle, a fish and a mollusk along with interesting traces showing their lifestyle lie around the ground everywhere and it really catches researchers' as well as people's interest. Skeleton of carnivorous Tarbosaurus found in the area is now being kept as a show in the Museum of Natural History. Picnic lunch, Drive to the Bayan-Ondor village in Gobi altai province, This gobi part is very famous for gazelles and wild ass herds, Dinner, Campsite bon fire, Stay overnight in outdoor tent camping
Day 13: Eej Khairkhan & Aj Bogd Mountain
Breakfast, in this morning travel to the Eej Khairkhan mountain nature reserve area, Eej Khairkhan (2,275 m) is worshipped by local people in their belief that Eej Khairkhan mountain blesses families with children. The nine green framed stone pools and paintings of ibex, horsemen, and archers are some of the attractions for nature lovers. Explore the highlights of the mountain such as 7 craters with water in the mountain, Drive to Aj Bogd mountain, which is the famous mountain in gobi great national park, Picnic dinner in the mountain, Stay overnight in the outdoor tent camping
Day 14: Bodonch river
Breakfast, Drive to the Altai village through the great Gobi National park exploring wild nature and distinguished landscapes such as mountain, gobi desert steppe, Explore the herd of wild ass and gazelles, Lunch in open air, Trip in gobi desert national park exploring a lot of rare and interesting plants and Gobi tree tooroi, Dinner, Stay overnight in outdoor tent camping on the bank of river Bodonch
Day 15: Tsenher cave
Breakfast, Jeep safari continues along the Bodonch river cliff and gorge as heading to Manhan village area, On the way explore gorge and mountains, Passing through Zereg Mankhan National Park area, where are some herds of Saiga Gazelle, Picnic lunch in mountainous area, Travel to Tsenher cave, which is famous for keeping ancient rock paintings on the wall of its inside, Dinner, Stay overnight in the tent camping
Day 16: Khar us Lake and Tsambagarav Mountain
Breakfast, Trip to the Khar Us Lake, (Dark Water Lake) is the second freshwater lake (15.800sq km) in Mongolia, Khar Us Nuur is the perfect habitat for wild ducks, geese, wood grouse, partridges and seagulls, including rare relict gulls and herring gulls, Drive to Khovd town, Rest and showering in the hotel, Lunch, Trip to Tsambagarav snow caped peak, On the way explore the Chinggis wall, Dinner, Camp fire work, Stay overnight in the tent camping in mountainous area
Day 17: Tolbo lake and
Breakfast, Trip to the Tolbo lake with fresh water and its surrounding area is very picturesque, Lunch in open air, Trip to Khovd river via Olgii town in Bayan-Olgii province, On the way explore the Kazakh people's ger and their lifestyle, Picnic Dinner, Stay in tent camping on bank of river Khovd
Day 18: Hoton and Hurgan lake
Breakfast, Travel to the Siirgali, which is considered as one of the impressive places in this area, Siirgali is the place, where Hoton and Hurgan lakes with fresh water is joining in the valley surrounded by high mountains and Siberian forest, Lunch in open air, Trip is continueing, Arrival in the forest, Dinner, Stay overnight in the tent camping
Day 19: Shiveet Khairkhan Sacred Mountain – White River gateway
After breakfast travel to Shiveet Khairkhan Mountain - single big mountain, which is separated from others, has over 400 mountain wild goats on it, as so local people respect and do not any hunting. It is also keeping the Huns tribe's trails dated to 3 B.C, The Huns were the reason for the Chinese emperor Qin Shi Huangdi to build the Great Wall of China, Continue the trip, Reach Tsagaan river, Drive to Tsagaan River – White River, After some rest head to Tsagaan River basin area- main gateway of national park Altai Tavan Bogd, Day Hike to the peak of Sul mountain and visit to Tuvan family on the top of high hills, Come down to base camp at Tsagaan River, Meet up with local Tuvan herders who will provide us with horses and camels for the hike, In the evening enjoy bon fire and dinner, Stay in outdoor tent camping
Day 20: Altai Tavanbogd Mountain with snow peaks – Trekking
In the national park area vehicles and motorcycles are forbidden, so with the support of camels and horses, our hiking travel will be more comfortable. All of luggages will be loaded on the camelback for 16km to the base camp area at the edge of 20 km long Potanina glacier and some high peak. Get introduced with local guide, who will take care for horses and camels and luggages, Trekking travel will start to Potanina Glacier edge, that runs down from the highest mountains in Mongolia Stay overnight in outdoor tent camp
Day 21: Trekking along Glacier
At breakfast enjoy a cup of coffee and tea, which water is from snow and ice next to colorful flower carpeted green meadow, Walking along the Potanina Glacier, Walking on the wild flower carpeted green meadows heading to Grane and Prezevalskii Glaciers, Hike up through a mountainous terrain of rock outcroppings to Malchin base camp, Perhaps catch sights of local wildlife including marmots, hares, and a number of birds (golden eagles, vultures, and falcons), Come to the Malchin mountain, Free time, Campsite elevation is 2,900m, stay overnight in outdoor tent camp
Day 22: Horseback trekking to White River base camp
Breakfast, In the morning we will start travel on horseback to the camp, where the jeeps and tracks left, Lunch, Trip to Khovd river, which has the wild white water, Picnic Dinner in open air, Stay overnight in the tent camping
Day 23: Olgii town
After breakfast drive to Khovd river, where are many kinds of interesting historical sights, Lunch, Trekking and exploring the deer stones monuments, graves, human shaped rock and so on, which all are dated to ancient times, Transfer to the hotel in Olgii town, Dinner, Stay in the hotel
Day 24: Ulaanbaatar city
After breakfast visit the local museum of Ulgii town with comprehensive information of flora and fauna of Bayan Ulgii province as well as it colorful traditional costumes. Transfer to the airport and fly to UB approx. 4 hours. Free time, Visit main square Chinggis Khan, Drive to Zaisan hill, which is observation deck for Ulaanbaatar city from west to east. After dinner stay in hotel
Day 25: Ulaanbaatar city
Breakfast, City tour including visits to Gandantegchilen Monastery- Present biggest monastery, which houses for giant standing Buddha statue, National History Museum gives you real insight into Mongolian origin and history, After lunch visit to Paleontology Museum offers nice chance to see petrified dinosaur skeletons and nestled eggs, Free time for shopping the main street shops, art shops and antique shops, National Folk Performance Concert with songs and contortion acts, Dinner, Stay in hotel
Day 26: Departure day
Breakfast, Check-out at the hotel before 12.00 noon, Blue Mongolia Tour guide and driver will see you at the hotel lobby and Make a Transfer to the airport/ train station, Departure

The tour itinerary is subject to be changed at the traveler's request and requirements.
TOUR PRICE
For individual travelers /1-2 people/: 4600-5600USD
For group /more than 3-4 people/: 3900-4400USD
Above mentioned price is average amount to give you an idea. The exact amount is varied for everyone depending on number of travelers and service type including how many stars hotels you want to stay in, double or single occupancy you would prefer, what kind of additional service /such as visa support/ is required and so on...

Discount conditions:
• If group is bigger than 16 people: 16 +1pax free of charge
• For Family trip, children 0-9 years old are free of charge
This price INCLUDES:
Transfer to/from airport/hotel, Private transport with driver during the trip including petrol cost, Accommodation at hotels in Ulaanbaatar, Accommodations in Ger tourist camps in countryside, Everyday 3 times meals, English speaking tour guide, Entrance fees to protected areas, Entrance fees to sightseeing and museums and cultural shows, Horse riding and camel riding fees, Domestic flights, flight insurance, Daily supply of mineral water - 0.5L bottle of water per day, invitation letter arrangements for Mongolian tourist visa issue, service fees and government tax.
This price DOES NOT INCLUDE:
International air flight round trip, Travel insurance, medical insurance, Fee for Visa obtaining, Alcoholic beverages, Additional services, Fee for extra luggage, Personal expenses such as IDD call, internet using, laundry, any charge for major force beyond of our control such as the imposition of quarantine restrictions, weather bad conditions, changes of arrival/departure flights, poor roads conditions, etc.
Please, Note:
1. The maximum weight of loaded luggage for domestic flight and vehicle is 10 kg, hand luggage 5 kg. For overweight, each kg will be charged in 1.5USD. Extra luggage can be stored free at hotels in Ulaanbaatar.
2. Hotels in Ulaanbaatar city reserved on double occupancy, and in countryside all Ger styled tourist camps are based on triple or 4 occupancy.
3. Check-in at hotels is at 12:00m/Check-out at hotels is at 12:00m.
!!! Tour itinerary and price may be subject to change. The duration of the above trip can be prolonged or changed to suit your needs. Please, make your reservations at your earliest convenience.