HORSE TREKKING IN MONGOLIA
Tour code:
MN-61
Seasons to be arranged:
May-November
Duration:
7 nights & 8 days
Number of travelers:
Available for solo traveler, 2-4 people, group max of 15 people
Total distance:
900 km by jeep, 120 km by horse and 2 km by camel
Tour grade:
Intermediate riding ability required
Riding horse breed:
Mongolian pony strong horses
Tack:
Western styled and hand made with leather and
Ride Includes:
mountains, forests, open country, green valley
Pace:
Medium, so intermediate riders can join this travel
Limit for riders:
Weight-190lbs /85kg/, more than 15 years old and less than 60 years old
Activity:
4 days mongolian horse trekking, hiking 2 hours, meeting with nomads
Specially advised to pack:
your own gourmet for riding: hat, boots, gloves and others, hiking good shoes, sun glasses and sun hat, binocular, mosquito repellent crème, your favorite delicacies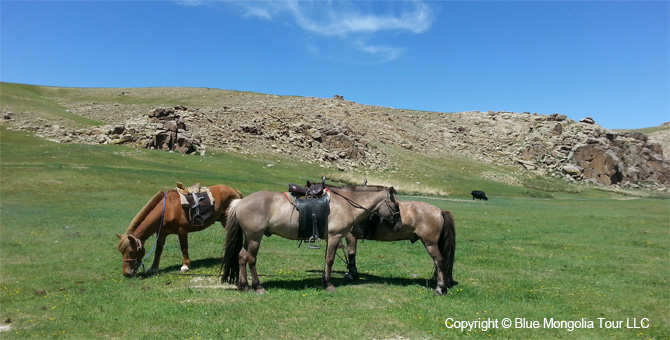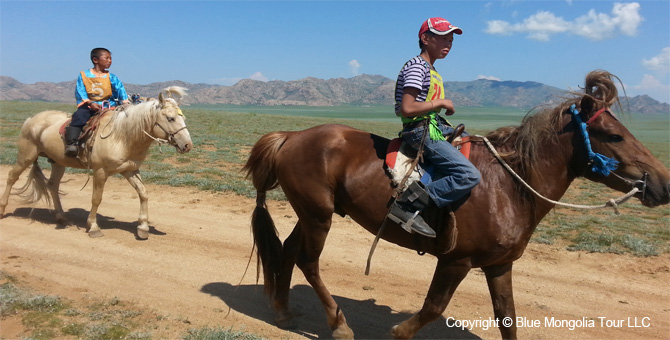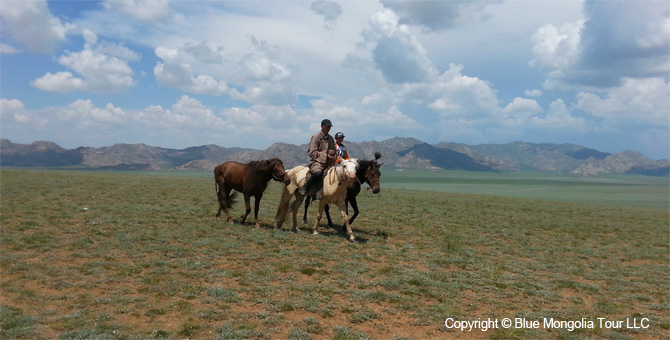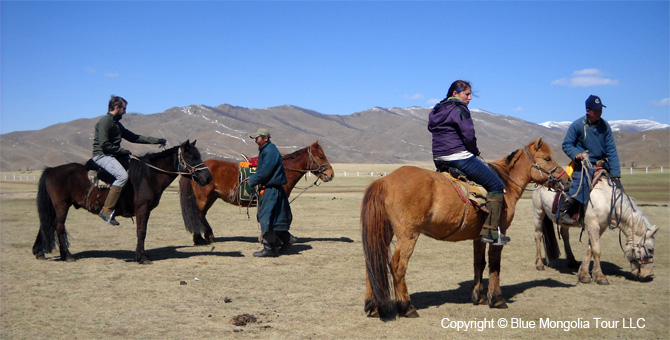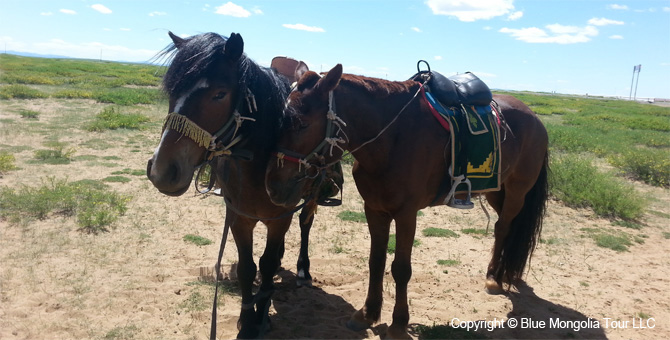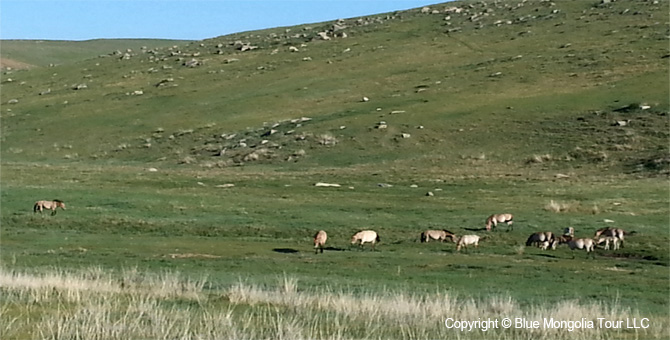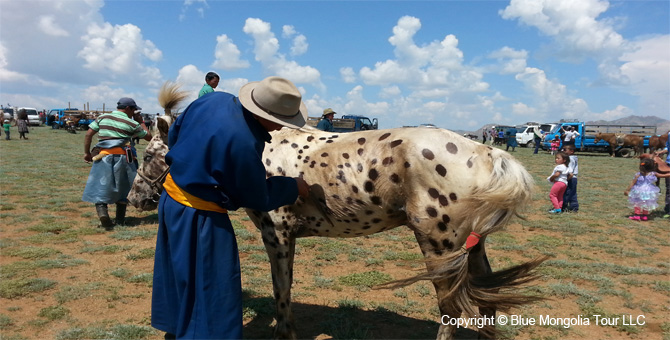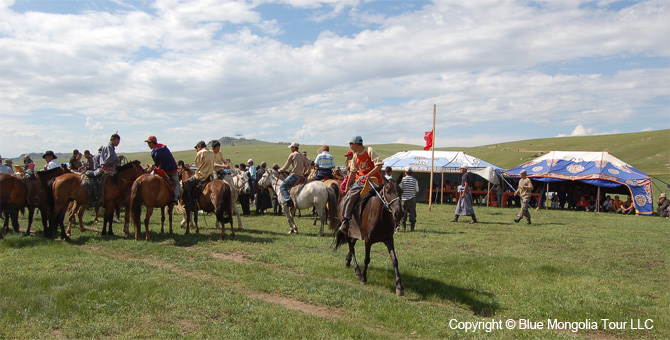 Day 1: Ulaanbaatar capital
Arrival in Ulaanbaatar city, Meeting assistance upon arrival by Blue Mongolia Tour agency representative and transfer to Hotel with 3 stars. Free hours for relaxing and adjusting for time difference. Dinner, Stay in hotel
Day 2: Mongol Els Sand Dunes in Khogno Khan Nature Reserve
After breakfast drive to Khogno Khan Nature Reserve Area, Accommodate at ger tourist camp near by Elsen tasarhai sand dunes, Free time and relaxing, After lunch you will visit to horse breeder's family to explore the nomadic lifestyle and to have talking with nomads about their life and tradition, There is nice chance to try Mongolian national drink-Airag-fermented mare's milk and other milk products, Experience daily activities of local people, Then you will have a chance to enjoy 5-6 hours horseback riding, After dinner you can have a free time to walk on small sand dunes, Stay overnight in ger tourist camp. Today you will drive for 190 km. Stay in ger tourist camp
Day 3-5: Horse Trekking
After breakfast you will have horse trekking tour to several places: Erdene Hambiin Temple ruins in Khogno Khan mountain, Shireet lake, Mongol Mountain and south edge of Mongol els sand dunes, picnic lunch, Stay in ger tourist camp
Day 6: Wild Horses National Park Khustain Nuruu – Horse Trekking
In the morning travel to Wild Horses National Park in Khustain Nuruu Mt, where herds of wild horse Przevalskii are re-acclimatizing since 1991, Information about the national park and wild horses will be given by accompanying Biologist. After lunch, Drive to Mountains followed by a brief trek and wait for wild horses to come to spring drinking water; Mongolian name is takhi, Stay in ger tourist camp
Day 7: Ulaanbaatar city
After breakfast Horse trekking tour in national park area, After lunch you will depart to Ulaanbaatar city, Free time, Stay in the hotel
Day 8: Departure
Breakfast, Check-out at the hotel before 12.00 noon, Blue Mongolia Tour guide and driver will see you at the hotel lobby and Make a Transfer to the airport/ train station, Departure

The tour itinerary is subject to be changed at the traveler's request and requirements.
TOUR COST
Solo Traveler: USD1700
Per Person for group of 2 people: USD1500
Per Person for group of 3-4 people: USD1400

This price INCLUDES:
Private Transfer to/from airport/hotel and hotel/airport, Private transport with driver during the trip including petrol cost and road tolls, Accommodation at hotels with 3 stars in Ulaanbaatar- standard rooms for single or twin occupancy, Accommodations in Ger tourist camps in countryside, Everyday 3 times meals and hot drinks such as cups of coffee and tea, English speaking tour guide service, Entrance fees to protected areas and national parks, Entrance fees to sightseeing and museums and cultural shows in city, Horse riding and camel riding fees, Daily supply of mineral water - 0.5L bottle of water per day, invitation letter arrangements for mongolian tourist visa issue, service fees and government tax.
This price DOES NOT INCLUDE:
International air flight round trips, international train tickets, Travel insurance, medical insurance, Fee for Mongolian tourism visa obtain, Alcoholic beverages, Additional and optional services, Fee for extra luggage, Personal expenses such as laundry service, any charge for major force beyond of our control such as the imposition of quarantine restrictions, weather bad conditions, changes of arrival/departure flights, poor roads conditions and single supplements for ger tourist camps = 20USD per night and etc.

Please, Note:
1. The maximum weight of loaded luggage for domestic flight and vehicle is 15-20 kg, hand luggage 5 kg. For overweight, each kg will be charged in 3USD. Extra luggage can be stored free at hotels' luggage rooms in Ulaanbaatar.
2. Hotels in Ulaanbaatar city reserved on double occupancy, and in countryside all Ger styled tourist camps are based on triple or 4 occupancy.
3. Check-in at hotels is at 1:00p.m/Check-out at hotels is before 12:00m.
!!! Please, make your reservations at your earliest convenience.